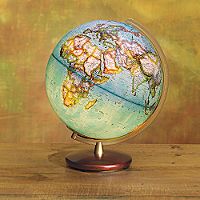 After booking and confirming your travel arrangements, you may realize that you still need some more information even as you prepare for the trip to Africa. Some of the questions that you will have, relate to money - for example, the value of your home-country money in relation to local destination currency. You will probably need to know how much would be enough to cater for your needs. You will certainly need to know in what form you need to carry the money - whether cash,
credit card
or in form of checks.
The guideline below, although apt for travelers to East Africa, may apply to most other African destinations. Ultimately, the most reliable and current advise should come from your chosen African Safari Outfitter.
How To carry your money
Cash and travellers' checks each have advantage. Obviously cash is more readily exchanged and accepted and command a better exchange rate in East Africa. Travellers' checks on the other hand, are replaceable in case of lose. You should carry a combination. Decide what proportion of each to carry, according to your own taste or convenience against the risks that may arise. Try for a diversity of denominations such that you have a mix of smaller, medium and a few or the larger denominations of your home country currency.
You can change money at slightly less than standard bank rates in most hotels. Traveller's checks cannot be changed at hotels and lodges; it can only be done at banks and financial institutions.
Credit Cards
Major credit cards
(and debit cards with Visa or
Master Card
logos) offer you a superb emergency back-up. Every traveller should carry one, even if you don't plan on using it.
If your air ticket is lost, or you need to fly home in an emergency, your credit card can make this possible. Your credit card will be accepted in better shops in Kenya, Uganda and Tanzania, so if you develop an unplanned infatuation with an expensive art object, you can buy it without having to carry hundreds of dollars in cash or checks. Please remember to keep your receipts in case you have questions about the conversion or exchange rate. Also keep your receipts as a proof of purchase.
How Much Money To TakeDo not count on being able to withdraw cash with a credit card, a debit card or an
ATM card
. Whilst this service is becoming increasingly available, it might not be functional/available on some of the areas you might be visiting. Plan to carry enough money to cover your expected expenses, plus a small reserve. Your credit card can be your financial emergency back up kit.
By far, the biggest variable in your budget may as well be your taste for souvenirs. You take a few meals on your own; these will cost between $10 and $15 each, including a 10%-15% for tipping.
You might also spend a bit on telephone bills, laundry and drinks. Other incidental expenses may arise from domestic and regional airport departure taxes. This may happen in cases where your itinerary includes some internal flights and the tickets do not include the local departure tax. In such cases, these figures are variable depending on the dates of travel, the airport in question and even the country. A confirmation closer to your dates of travel with your Safari Outfitter may give you an idea.
Most people on our trips carry between $500 and $600 (for a two weeks visit) for all extra expenses. (If you have a safari extension, such as to the beach - take about $300 more) If this seems low, take more. If this seems high, remember that you don't have to spend it all.The Local CurrencyAll the three East Africa Currencies (shillings) are composed of 100 cents. For current exchange rates, please refer to the internet or a newspaper.
Tipping SuggestionsIn East Africa, all tipping on your trip is optional, and the amounts given, if any, are strictly dependent on your decision, obviously based on your satisfaction with the services rendered. For those who want suggestions, we offer the following guidelines.
You may budget for between 2% and 3% of the entire cost of your trip.
Always remember that amounts given, if any, are personal decision, and if travelling in a group, every group member does not have to give the same amount. US dollar cash is preferred for tipping safari staff.
At the end of your trip, if travelling in a group: a volunteer group member can 'pass the hat' and present a collective tip to your drivers/guides. Many travellers give between $3 to $ 10 per safari day. You can also tip the drivers and guides individually.
Enjoy your trip to Africa.